What comes to mind when you hear the word COZY? I'm thrilled to share a written "Sanctuary of Creative Quiet" in this special release of
The Cozy Issue of Bella Grace, Issue 3.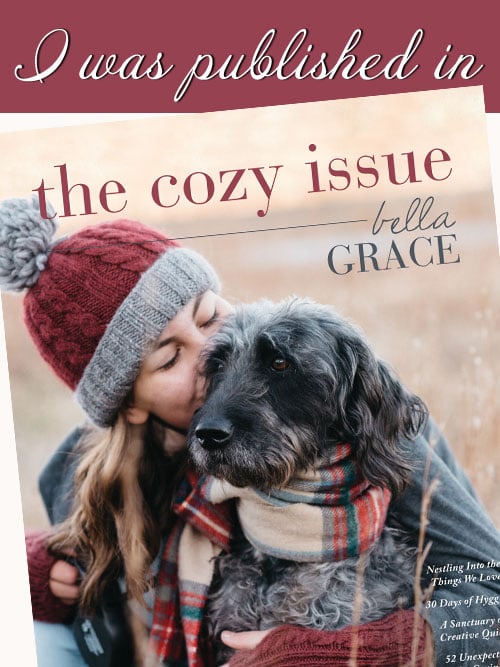 I was in Florida when I picked up an issue at B&N, so I was happy to discover ideas and lists for curling up for an escape in warmer climates too.
For a copy, see Barnes & Noble store near you or click on the magazine cover above.
If your year is fraught with new schedules and demands, and you haven't yet been afforded the chance to reflect on the earth's bounty and life's whispers, I recommend Bella Grace, Issue 25.
One day when my eyes were too tired to look at my computer screen a moment longer, I wandered over to a bookstore for a cup of coffee and to look at pictures on the magazine rack. It was then that Bella Grace caught my eye. I was drawn into the magic of gorgeous pages of photographs, quotes, and home spun joy. I loved the lists of ideas and good books to read. I walked through forest glens and along country roads. I dreamed of planting giant sunflowers and the pitter patter of little feet on hardwood floors. And I felt my soul take its first breath after weeks of pressing deadlines and daily stresses. I have collected many issues since. I love giving the magazine as gifts, and I make a regular practice of escaping into the pages for needed time outs.
For this reason, I am thrilled to tell you that I've been published in this remarkable publication!
Bella Grace Magazine Issue 25
Two of my pieces were featured in this issue of Bella Grace. In the first, I write about my favorite season for snuggling, lingering kisses and glorious awakenings. The second is a poem capturing the rhythm of life's dance.
To purchase your copy, click on the magazine cover above. Enjoy!
If you want to reach me directly, click here.