From time to time I am published in the lovely, bestselling Bella Grace. If you would like to enjoy a bit of winter whimsy, and about taking your own daring leap, read a sample of The Pavlova Morning here, and find the story in full at your local Barnes and Noble Winter Issue 38. Also for purchase online @ BellaGraceMagazine.com.
Cold smoke, the fine dry snow in the Rockies blew in with Montana's February… fine dust drifting like sand dunes, sculpting a crust of ice crystals which then shift and hollow out, creating a tutu's lace edges, lifting with the direction of the wind, pirouetting in a strange and silent dance.
***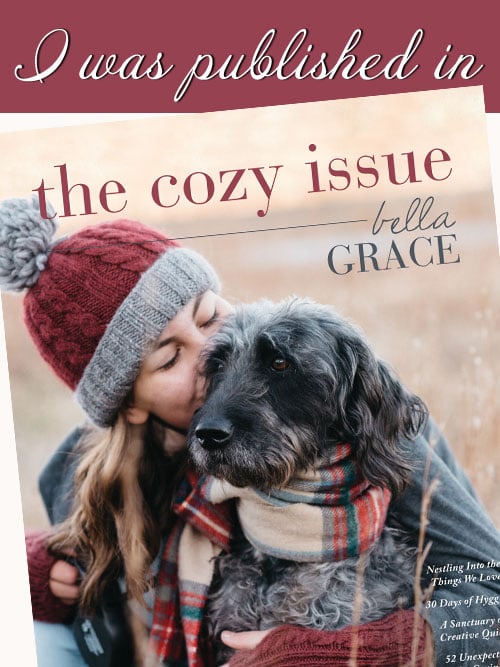 I was in Florida when I picked up an issue at B&N, so I was happy to discover ideas and lists for curling up for an escape in warmer climates too.
To enjoy reading here on the Dona Sofia Blog, click here: Sanctuary of Creative Quiet
***
If your year has been fraught with schedules and demands, and you haven't yet been afforded the chance to reflect on the earth's bounty and gentle whispers, I recommend Bella Grace, Issue 25.
One day when my eyes were too tired to look at my computer screen a moment longer, I wandered over to a bookstore for a cup of coffee and to look at pictures on the magazine rack. It was then that Bella Grace caught my eye. I was drawn into the magic of gorgeous pages of photographs, quotes, and home spun joy. I loved the lists of ideas and good books to read. I walked through forest glens and along country roads. I dreamed of planting giant sunflowers and the pitter patter of little feet on hardwood floors. And I felt my soul take its first breath after weeks of pressing deadlines and daily stresses. I have collected many issues since. I love giving the magazine as gifts, and I make a regular practice of escaping into the pages for needed time outs.
For this reason, I am thrilled to tell you that I've been published in this remarkable publication!